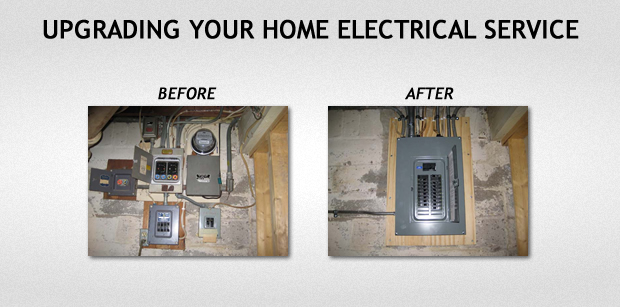 Need to Upgrade Electrical Service?
Get a Free Estimate!
Experienced Electricians
Trustworthy Local Electricians
Guaranteed Electric Work
J & J Electric has experienced electricians to handle your home electric service upgrade.
Why Choose J & J Electric?
| | | | | |
| --- | --- | --- | --- | --- |
| Local Business | Licensed & Insured | Background Checked | 20 Years Experience | Highly Rated |
Upgrading Electrical Service for your Home
The benefits and reasons for upgrading home electrical service
Top 7 Reasons for Upgrading Electrical Service
You have circuits and fuses constantly "blowing out"
Your home is older and outdated electrical wiring is becoming a hazard
You added a major appliance, such as  a hot tub or washing machine
Your home is older and not able to handle new technology – such as 3D Televisions
Your homes electric output is damaging electrical appliances, such as computers and cell phones
You have frequent "brown outs"
You would like to add additional living space to your home
The Benefits of Upgrading Electrical Service
Every household needs adequate power as a means to fulfill the homeowner's goals, create a satisfying lifestyle and ensure a safe environment. Upgrading electrical service can prevent minor inconveniences where homeowners have to stagger their use of appliances to avoid tripping a circuit breaker.  Upgrading electrical service can also prevent major disasters such as electrical fires, caused by overtaxed wiring.  Modern conveniences such as big screen television sets, computers and a wide gamut of kitchen appliances all create a strain for residential electrical service.  Philadelphia homeowners must address their home electrical needs with respect to the overall amount of power they consume, the peak times of their power usage and specific appliances that require an exceptionally high amount of power.
Philadelphia Homeowners use numerous excuses not to upgrade their home electrical wiring. Ultimately, the excuses do not prove to be good reasons. Far too often, homeowners simply become acclimated to the condition of their household wiring scheme in the same manner as they learn to accept unattractive wallpaper. Wiring also allows homeowners to engage in a game of out of sight, out of mind and they choose to wait for a problem to manifest itself before acting. However, upgrading electrical service should be a priority for anyone who values safety and modern amenities.
Changing wiring introduces an unknown element. It is reasonable for homeowners to be apprehensive initially about the problems they will uncover once they begin the task of evaluating and potentially changing the wiring in their household. However, it is not reasonable for homeowners to neglect the importance of proper wiring simply because they imagine that it may be a difficult undertaking. Homeowners can resolve their problems and improve the safety of their home by consulting with qualified electricians.
The first step homeowners need to take is to evaluate their current situations and share this information with their residential electrician. Most people have a good understanding of what works and what does not work in their own homes. If running a hairdryer consistently trips a circuit breaker or blows a fuse, the homeowner has a problem to address sooner rather than later. J & J Residential electricians in Philadelphia adhere to all electrical and wiring codes, and are licensed Electrical Contractors. Our Electricians have the experience to evaluate a home's wiring and prescribe the best solution for the home electrical setup.
Upgrading electrical service should be a priority for families. More and more school systems are asking students to electronic devices for homework. In addition, children need all sorts of gadgets for after school projects and recreation. These devices create a drain on home electrical wiring. Portable battery operated devices do not relieve the problem because the batteries will need to run on electricity to recharge, usually all at once overnight. Faulty residential electrical service can damage expensive electronics causing owners to have to spend a lot of money to repair or replace them. Upgrading electrical service allows homeowners to avoid many of these replacement expenses. Homeowners will also appreciate the peace of mind that comes along with knowing their home electrical wiring is safe.
Residential Promotion
Veterans and Active Duty members of the Armed Forces receive a 10 % Discount.